"I chose LJIC because they offered more classes than the other schools that I was interested in. It is also a great place to make friends since it is a smaller environment. Also, my grandmother went to school here in Fremont & she loved it!"
We asked Miranda what were some of her fears & excitements when she started school…
"I was anxious about meeting new people but it honestly was not bad at all. Everyone here will stop what they are doing to help you. I was excited for the Path to Perfection Nail class & Satin Smooth Wax class later in the year."
What would you tell someone interested in the industry?:
"LJIC is such a fun place to learn, the teachers are AMAZING! You can do some awesome & inspiring hairstyles."
Thank you Miranda for sharing your experiences & for participating in today's #LjicTuesTimonial.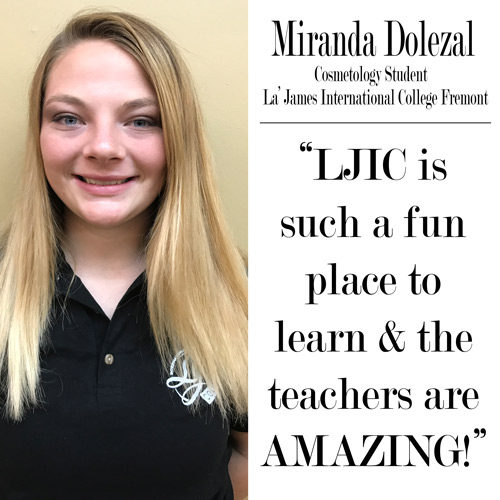 Contact a Career Planner to learn more about La' James International College and upcoming classes. Call 888.880.2108 or visit www.LJIC.edu today!