September 22, 2016
Family Makeup Secret – A Teacher Tip from Miss Gelaude!
Meet 
Miss Alissa Gelaude
, 
LJIC Cosmetology 
& 
Esthetics
 graduate AND now… Instructor at 
La' James International College
in 
Davenport
! Miss Gelaude shares an old makeup tip from her great grandmother…
"Mix distilled water with rose essential oil. Once you are finished with your makeup, dap onto your face and press firmly into any problem areas. Your makeup will look flawless!" 
We asked Miss Gelaude what her favorite moments are as an educator at LJIC:
"Getting to see new and creative looks my students come up with each and every day!"
Thank you Miss Gelaude for sharing this great piece of advice & for participating in today's #LjicTeacherTip!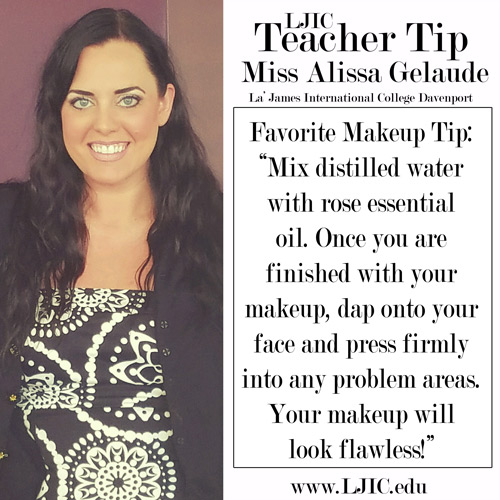 Contact a Career Planner to learn more bout La' James International College and upcoming classes. Call 888.880.2108 or visit www.LJIC.edu today!