Meet Miss Niki Lindsey, Massage Therapy Instructor at La' James International College in Cedar Falls! Miss Lindsey shares her favorite tip for students…
"Do as much as you can while you are in school. This is the place to make safe mistakes. Your instructors are a wealth of knowledge, use it!"
What is your favorite LJIC moment?:
"I have gone from being a massage student, then a few years later came back to take the esthetics program. While in esthetics I found a passion for helping others and decided to take the Cadet (Teacher in training) Program. I am now back at my second home of LJIC as the massage instructor. I get to live and work my passion on a daily basis."
What would you tell others who are interested in coming to school?:
"LJIC is a very well rounded school. When you take one program you kind of touch on all the programs. You may find you have a passion and a skill in an area you didn't even know you had! We are a big family that supports each other. You make life long connections here."
Thank you Miss Lindsey for the great tip & for participating in this week's #LjicTeacherTip!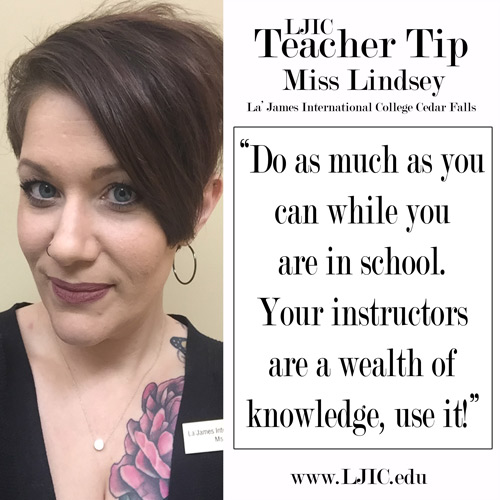 Contact a Career Planner to learn more about La' James International College and upcoming classes. Call 888.880.2108 or visit www.LJIC.edutoday!