LJIC Awards
Teaching the "Best Facial of The Century"
With five campus locations throughout Iowa, La' James International College is an institution in the Hawkeye State and beyond. For more than 50 years La' James International College has developed a reputation for excellence, providing students with everything they need to succeed through their four-cornerstone goal of enrolling, educating, graduating, and finally, placing graduates in jobs they love. Estheticianedu.org was nothing but impressed by the immersive approach La' James takes in preparing students to become skilled estheticians, providing a true spa atmosphere designed to both teach and inspire. Choose LJIC for your esthetics program and you'll be part of a school known for the 'Best Facial of the Century!'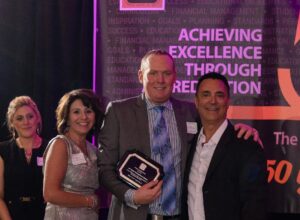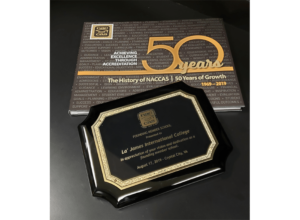 La' James International College has been a proud member of NACCAS (National Accrediting Commission of Career Arts and Science) for over 50 years. LJIC was recently recognized as a Founding Member School at NACCAS's 50-year celebration in Arlington, Virginia. NACCAS has over 1200 accredited institutions with some 105,000 students. That is more than one hundred thousand students whose lives are changing because of attending an accredited institution, like LJIC, that gives their student better career opportunities upon program completion.
Annual Cimaglia Award
In 2012, the 35th Annual Cimaglia Award was presented by Milady President, Dawn Gerrain. Candidates are either past presidents of AACS and/or those persons with 25 years or more of outstanding performance for continuous service to cosmetology education and the beauty industry.
The nominees for the 2012 Awards were: Cynthia Becher, Sam Federico, Jim Goins and John Halal.
The award, sponsored by Milady and presented by AACS Past Presidents, was presented to Cynthia A. Becher for her honorable contributions to the industry. In her emotional acceptance, Becher said, "It's truly an honor… I'm shocked." She fell into the industry but stated that she quickly fell in love with it and acknowledged how generous and rewarding it as been for her. "This industry changed me internally," she said. "From the bottom of my heart, I can't tell you enough how I appreciate this."