February 23, 2017
Colorful Minds – A Teacher Tip from Ms. Lee! 
Meet Ms. Paige Lee, Instructor at La' James International College in Des Moines! Ms. Lee shares one of her favorite quotes…
"We always wear black, but we have the most colorful minds."
What is your favorite LJIC moment?:
"Being at Trend Vision and seeing all of the talent from different schools, and just being able to be a part of the Des Moines LJIC Crew."
What would you say to those interested in coming to LJIC?:
"LJIC has outstanding teachers who work hard to help students with whatever is handed to them, whether it be in the classroom or hands on."
Thank you Ms. Lee for the fun quote & for participating in today's #LjicTeacherTip!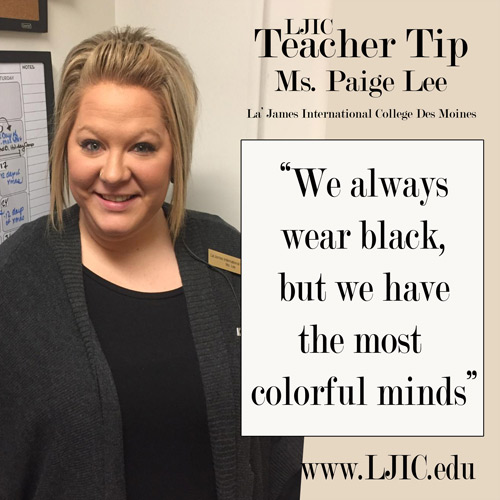 Contact a Career Planner to learn more about La' James International College & upcoming classes. Call 888.880.2108 or visit www.LJIC.edu today!