Meet Kacie Ingledue, Cosmetology student at La' James International College in Cedar Falls! See why Kacie chose LJIC to start her journey through the Health & Beauty Industry….
Why did you choose LJIC?:
"LJIC was close to home & I enjoyed my tour of the campus."
What has been your favorite experience?:
"The events that we get to do & the competitions."
What would you tell those interested in the industry?:
"If it's something that they are passionate about, just do it! 
What was your first appointment & how did it go?:
"A pedicure for a Girls Night out event & it was a lot of fun!"
What are your plans after graduation?:
"to rent a chair close to home & one day have my own salon!"
What were your fears & excitements when you started school?:
"Going back to school, working & being a mom… the instructors were very helpful!!"
Thank you Kacie for sharing your experiences & for participating in today's #LjicTuesTimonial!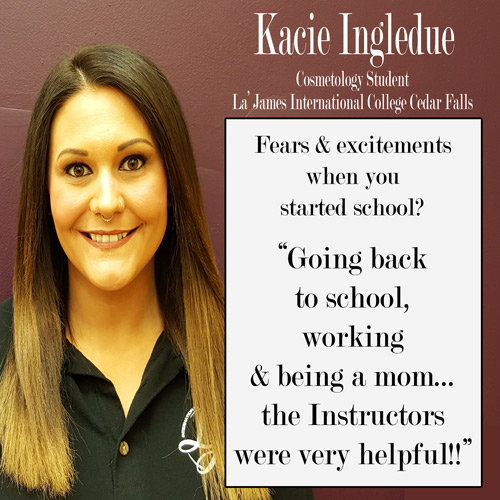 Contact a Career Planner to learn more about La' James International College and upcoming classes. Call 888.880.2108 or visit www.LJIC.edutoday!