August 22, 2017
Celebrate Self-Improvement Month at La' James International College
Feel Like Your Best Self with a Career in Health and Beauty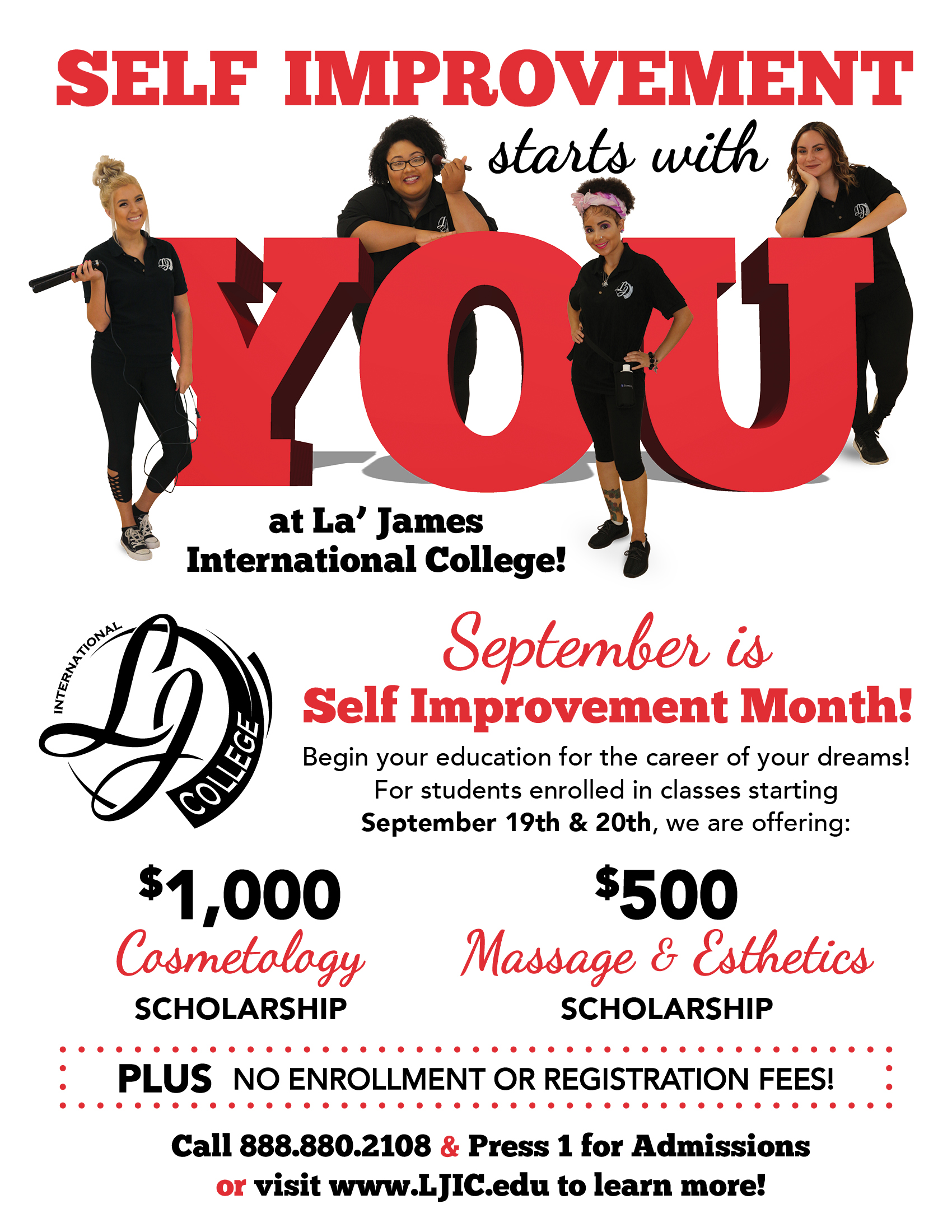 September is that special time of the year when summer comes to an end and reality begins to set in again. It's also considered Self-Improvement Month, which means that this is your opportunity to focus on yourself. We're constantly bombarded by distractions, pushing and pulling us in all different directions. At any given moment, there's always something that needs to get done. This non-stop hustle and bustle can leave us feeling overwhelmed, anxious, and down-right depressed.
This is one of the best times of the year to begin a career in the health and beauty industry. At La' James International College, we're offering special scholarships for our programs in cosmetology, massage and esthetics. Take a positive step towards the career you've always wanted and sign up today!
Spend a Day in Tuscany
Unfortunately, most of us don't have the means to jet off to Italy at a moment's notice, but if you're craving the sweet aromas of the Italian countryside, you can develop your skills as a massage therapist at LJIC's Tuscany-inspired spa center. You can spend your working days in a relaxing environment that's just as soothing as it is inspiring.
Professional Products for At-Home Self-Care
At the beauty store, Shades of Expression, LJIC offers dozens top-tier health and beauty products at unbelievable prices. Most of the beauty products on the market are filled with harmful ingredients that can actually damage your skin overtime. When you become a member of the LJIC community, you will receive hands-on training on how to use some of the industry's best health and beauty products.
You can also use this knowledge when it comes to your own beauty routine. You'll learn how to properly care for your skin, hair, and body using all-natural ingredients, soothing formulas, and energizing fragrances. Become a better beauty professional and discover some of the industry's best-kept secrets.
Our Salon, Your Campus
When you come to LJIC, you will have direct access to full-scale working salons where you can challenge yourself as a beauty professional. You won't just be standing around watching other people work on clients. We're always taking last-minute appointments to give you, the students, more hands-on training. You will work closely with all kinds of customers as you learn the ins and outs of what it means to be a salon professional.
If you're interested in working in the health and beauty industry, learn about all the exciting opportunities at La' James International College. We're offering a $500 scholarship for programs in massage and esthetics, and a $1000 scholarship in cosmetology. Classes start on 9/20 and 9/21. Find the career of your dreams and enroll at LJIC today!