January 13, 2017
Define Your Own Future!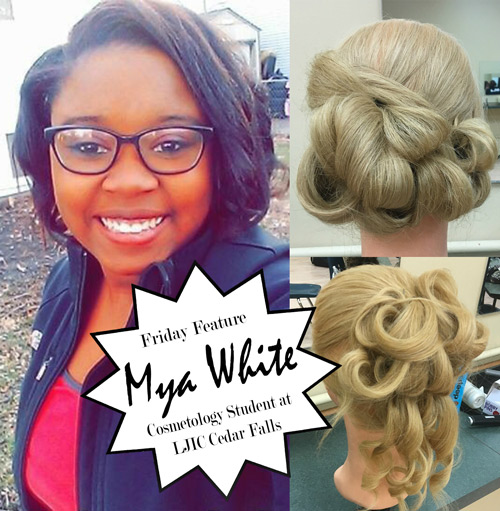 Mya White had known since she was a little girl that her dream career would be in the beauty industry! "Practically my whole family is in the hair industry! I have been passionate about this for a very long time. Growing up, I would practice hairstyles on my dolls every day; a career in Cosmetology was meant for me!" Mya moved to the Waterloo area a couple years ago with her family from Chicago where she attended high school and that is when she first found out about La' James International College. "My high school had a career fair where I saw the booth for LJIC and was immediately drawn to it! The Career Planner there really made this school standout!" Mya later filled out an application and enrolled in LJIC's Cosmetology program in Cedar Falls to fulfill her lifelong passion of becoming a Licensed Cosmetologist!
While enrolled at LJIC, Mya is loving the experience of college. She is an active member in the Student Ambassador program! "I LOVE being in the Ambassador program! With my classmates, we get to come up with new ideas on how to support one another while in school and that is very important to me! The ideas help bring all my classmates together which I think is awesome!" Last fall, Mya attended LJIC's annual Trend Vision Competition where she LOVED seeing all the LJIC schools come together! "Going to Trend Vision was amazing! It was great to see all the diversity of student's creative minds and for us all to come together and support one another!" Though Mya's journey is still just beginning, there were times where her talent felt discouraged. "Getting over the fear of actually cutting someone's hair was so memorable for me! I was SO scared before taking my first client. Once I got behind that chair though, I felt SO confident! I knew I could do it with the help of my training!" 
The passion for doing hair is only part of the reason Mya chose to pursue a career in Cosmetology. Mya loves to help people in all sorts of ways. She was a member of an exclusive program at her high school for young African American women where they learned about society, themselves, and the importance of giving back to the community! After Mya graduates, she plans on working at a salon to enhance her skill set, though she has even bigger plans for her future! "After I establish myself at a salon here, I'd like to move to Atlanta, Georgia! I'd love to one day open my own salon and be a celebrity stylist!" Though Mya knew from a young age that a career in Cosmetology was right for her, she would encourage anyone with a passion to go after it and not be afraid to fail!