Students & staff from La' James International College Fremont share fun tips for a DIY : Ice Cube Facial Massage! And the benefits are amazing…
Helps to minimize pores, controls oil production, prevents premature aging & the appearance of wrinkles! Plus it increases the circulation of blood on your face & reduces puffiness.
Ice cubes can also help to get rid of acne. Place an ice cub over the affected area and the redness & swelling will reduce considerably. This will also help your makeup last longer. Check it out & Try it out!
 What You Need: 
Ice Cubes
Gauze or fine cloth
towel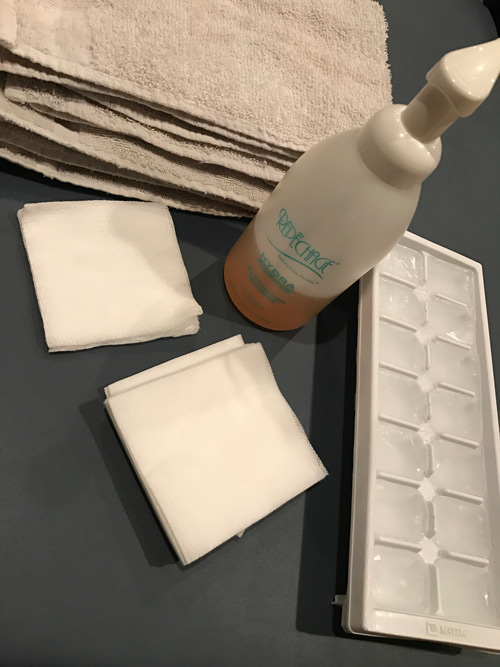 Step 1: Gently cleanse the face.
Step 2: Wrap an ice cube in gauze & let it start to melt. Now, quickly & gently massage your face, neck with the ice cube.
Step 3: Do not press to hard, you do not want to damage the small capillaries under the skin. Place a towel down to catch and drips.
Step 4: Starting at the eyebrow use a circular movement across the left side of the forehead, softly under the eye.
Step 5: Circular movements down the left cheek going from the chin to the ears.
Step 6: Circular movements from the chin, along the jaw line & down the neck.
Step 7: repeat on the other side.
Step 8: DO NOT pat your face dry. Let it dry naturally to get maximum benefits. 
Do's & Don'ts: 
Do not use more than 2 ice cubes. Using too many can cause skin problems that ca make situations worse. 
Only use ice cubes wrapped in a clean cloth (gauze). The capillaries under the skin ca break if you use the idea directly on the skin.
Keep ice moving in circular movements. 
Contact a career planner to learn more about our Massage therapy program in Iowa & its upcoming classes. Call 888.880.2108.
More DIY facials from our students
Repêchage seaweed facial for skin tone & clarity
DIY facial with lemon juice and baking soda
Anti-ageing and detoxifying DIY coffee facial
Banana cucumber rose hip facial to hydrate your skin