September 9, 2016
Her Time is NOW!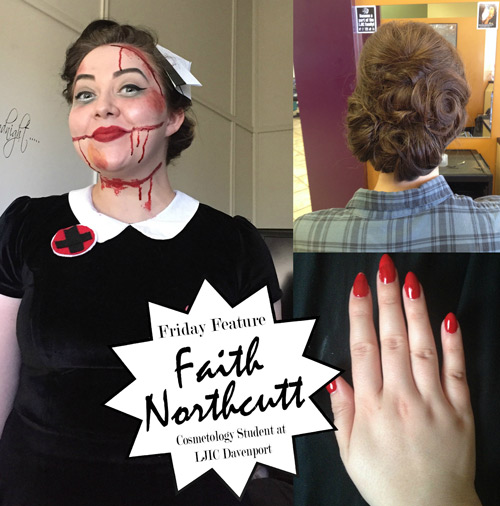 For La' James International College Davenport student Faith Northcutt, starting Cosmetology school was always a dream, but needed to be achieved at the right time. "I graduated high school two years ago and had always wanted to go Cosmetology school, and when I knew the time was right, I enrolled!" Faith had some background in hair and make-up while in high school that help solidify her decision to enroll. "I LOVED doing hair and make-up for our theatrical department in high school. That's where I would practice styling and shaping hair as well as make-up applications so I knew Cosmetology was right for me!" Faith chose LJIC in Davenport because of the first impression she received on her tour. "The LJIC staff was so prepared for my visit and really showed why LJIC was the BEST choice!"

Faith is enrolled in LJIC's 3 Day Cosmetology program; which she absolutely LOVES! "I enjoy how much I can control my schedule around school and studying. It's nice to be able to have my own time at home to study the materials and workbooks!" As a student at LJIC, Faith has become a Student Ambassador and appreciates the opportunity to help both her classmates and instructors! "I like how the Ambassador program works like a bridge between my classmates and instructors! We try and get all the inputs in order to better communicate with each other and make our journey that much more AMAZING!" Though hair and make-up were initially intriguing to Faith, she has surprisingly found a new interest. "I didn't think I'd like to learn nails as much as I did! I took the Path to Perfection class at LJIC earlier this year and ended up LOVING all the techniques and designs you can do with nails!"

Though Faith won't graduate till next year, she knows her training and mentors at LJIC will help her throughout her career! "At first, I thought doing the practical techniques were difficult and I was pretty critical of myself. After gaining the confidence and getting reassurance from my classmates and instructors, I'm definitely finding it easier to be confident in my work!" After graduation, Faith is undecided as to where her journey will take her next. "I'd like to possibly come back and complete the Nail Technology program, or I'd LOVE to work in a salon doing hair and make-up!" For students considering cosmetology school, Faith encourages you to follow your PASSION and commit to your education in order to be the BEST YOU!