April 7, 2017
Hook, Line and Sinker! 
Elizabeth or Liz as she prefers from LJIC Cedar Rapids campus went to school for her Bachelor's degree in Psychology & then went to work as an Air Freight Coordinator for a trucking company until she heard about the three-day Online Cosmetology program at LJIC.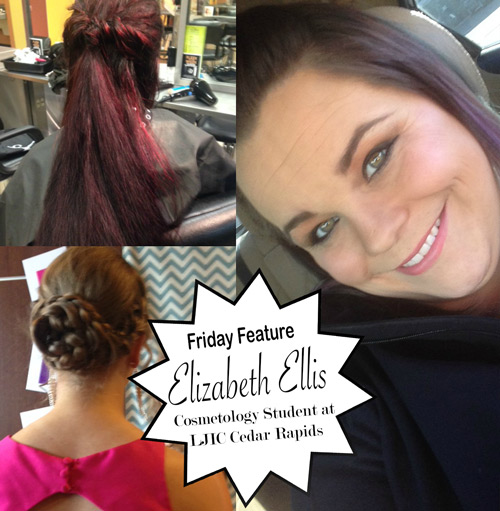 Liz went and explored her career interest at La' James International College in Cedar Rapids at Lindale Mall and found what she was looking for, "I liked the look and feel of the school but the hook, line and sinker for me was the three-day option."
Liz's journey at LJIC has been busy.  "I believe that what you get out is what you put in.  I constantly market and book clients so I rarely have a slow day.  I also do a lot of research in theory to absorb as much as I can."  She has not let anything stand in her way of her dream, "since August I have been involved in a flood, gone through a family death, and a fractured foot.  Working with my instructors at La' James International College and keeping the goal in mind has got me through it. The staff support at LJIC is unbelievable!!"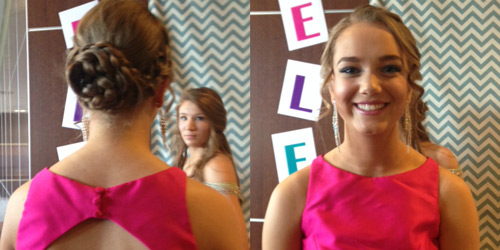 The future is endless for Liz!!  "This is such a diverse field that I don't have anything set in stone.  My goal is to own my own salon or work in a design team. But now I am enjoying my education at LJIC and researching different options.  And I am going to continue my education at LJIC after Cosmetology and enroll into Esthetics next!" 
Liz's advice for others wanting to pursue a career in Cosmetology, "Get a support group in place, believe in yourself and follow your dreams!  Don't settle for good, strive for great and don't stop!!!"  Liz also wants to extend a special thank you to her best friend and better half John for being her rock and for making sacrifices so she could follow her dreams.
To learn more about the Cosmetology 3 Day Hybrid program at La' James International College, contact our Admissions Team. They are ready & happy to help you get started today! Call 888.880.2108 or visitwww.LJIC.edu