September 20, 2016
LJIC #TuesTimonial with Alexis Curtis!
Meet Alexis Curtis, Cosmetology student at La' James International College in Davenport. Alexis shares some of her LJIC Experiences in today's TuesTimonial…
"When I first started school I was very excited to learn more about hair, new trends and styles. My biggest fear was working with guests on the clinic floor, but the instructors made it a lot easier for me and were very helpful!"

What would you tell someone interested in the industry & LJIC?:
"I would definitely suggest starting as soon as possible. It's so much fun and you get to learn so much at La' James International College."
Why LJIC?:
"Choosing to go to LJIC was the best decision I've made. Everyone body is so helpful and supportive and I love that they don't just help you while in school. They'll also help you make the transfer from school to workplace and will ALWAYS be there for you. With the help of LJIC, I know I will succeed."
Thank you Alexis for sharing your experiences & for participating in today's #LjicTuesTimonial!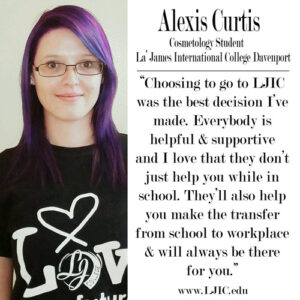 Contact a Career Planner to learn more about La' James International College & upcoming classes. Call 888.880.2108 or visit www.LJIC.edu today!