September 6, 2016
LJIC #TuesTimonial with Bailey Gronenthal!
Meet Bailey Gronenthal, Cosmetology student at La' James International College inFremont. Bailey shares with us what advice she would give to those wanting to pursue their passions in the Health & Beauty Industry…
"Believe in yourself and get as much as you can from your education. Also, believe in your passion."
What were your fears & excitements when you started school?
"My fears were that I wouldn't like it or that I wouldn't have anyone I could relate to. My excitements were that I was following my dream and that I was going to make people love their hair at the end of the day."
Why did you choose LJIC?
"I chose LJIC because it was small and I felt like there would be more one-on-one time if I needed it. There were also dorms available to me."
Thank you Bailey for sharing your LJIC Experiences & for participating in today's #TuesTimonial.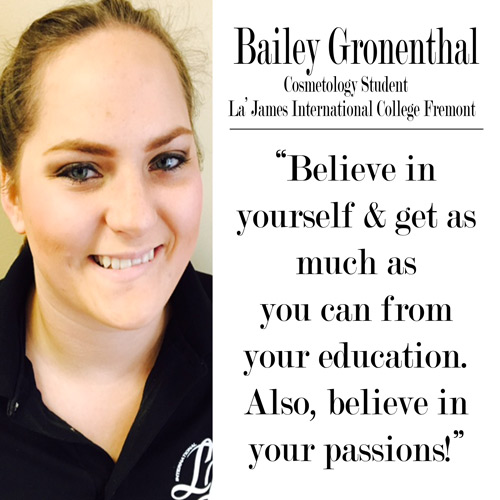 Contact a Career Planner to learn more about La' James International College & upcoming classes. Call 888.880.2108 or visit www.LJIC.edu today!

~ GET CONNECTED ~
Facebook: www.Facebook.com/LaJamesInternational
Twitter: LJIC1
Instagram: LJIC1