June 6, 2017
LJIC #TuesTimonial with Chloe Dohrman!
Meet
Chloe Dohrman
,
Cosmetology
student at
La' James International College
in
Iowa City
! Chloe is mixing her love of teaching with her love of hair. See what she plans to do after graduation…
"I chose LJIC because the atmosphere felt right for me and I felt like they wanted me. My first career choice was teaching & then I chose to go into the Cosmetology Industry. After graduation, I plan on going to get experience in a salon & then coming back to get my teaching license."
Thank you Chloe for sharing your experiences & for participating in this week's #LjicTuesTimonial!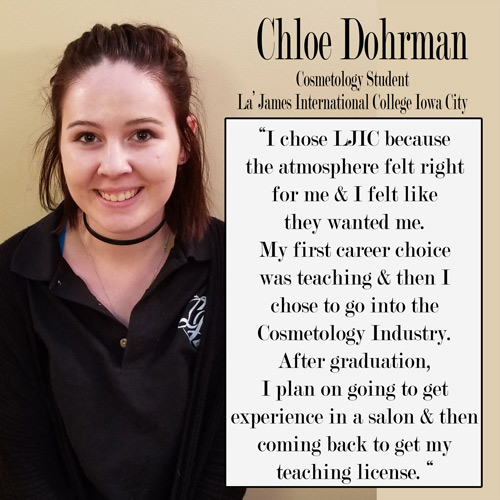 Contact a Career Planner to learn more about La' James International College & upcoming classes. Call 888.880.2108 or visit www.LJIC.edu today!