May 30, 2017
LJIC #TuesTimonial with Haley Franklin!
Meet Haley Franklin from La' James International College in Des Moines. Hear why Haley chose the Esthetics program and who inspired her to attend LJIC!
"I chose LJIC because I loved the campus & my mom had gone here when I was little. I would tell others there are a lot of creative avenues & jobs in the Esthetics field and the teachers are great at encouraging their students to be the best they can be."
What has been your favorite thing to learn while in school?:
"My favorite thing I have learned so far is waxing, which was not originally what I expected."
What was your first appointment & how did it go?:
"My first appointment was a facial & it was very easy because I had practiced quite a bit in class beforehand."
What were your fexcitements when you started school?:
"I was most excited for the makeup portion and the events that students could participate in."
What are your plans after graduation?:
"After I graduate I plan to continue my employment with Walgreens, running the beauty department as a beauty consultant. I also plan on being a free-lance makeup artist part-time."
Thank you Haley for sharing your experiences & for participating in today's #LjicTuesTimonial!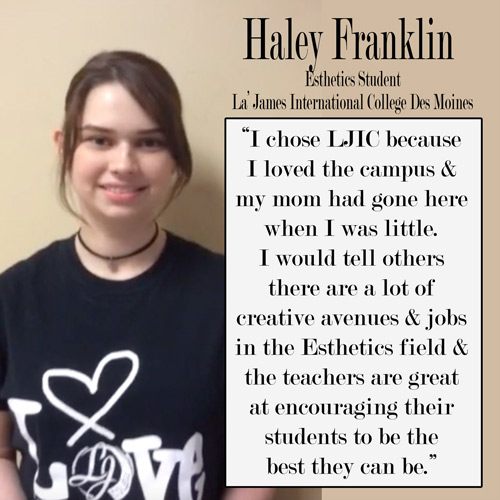 Contact a Career Planner to learn more about La' James International College & upcoming classes. Call 888.880.2108 or visit www.LJIC.edu today!