May 16, 2017
LJIC #TuesTimonial with Heather Fisher! 
Meet Heather Fisher, Cosmetology student at La' James International College in Fremont! See why Heather chose LJIC…
"I chose La' James International College because of the friendly & inviting atmosphere. All of the staff want to help you achieve your goals."
What were some of your fears & excitements when you started school?:
"My fear was starting a new journey so late in life. My excitements were to start that journey with something that I enjoy doing. I was excited to learn in a hands-on environment with others that have the same passions."
What would you tell someone interested in the Cosmetology Industry?:
"Follow your dreams, no matter your age or the obstacles you have to overcome. If you do what you love and enjoy, you will never work a day in your life."
Thank you Heather for sharing your experiences & for participating in today's #LjicTuesTimonial!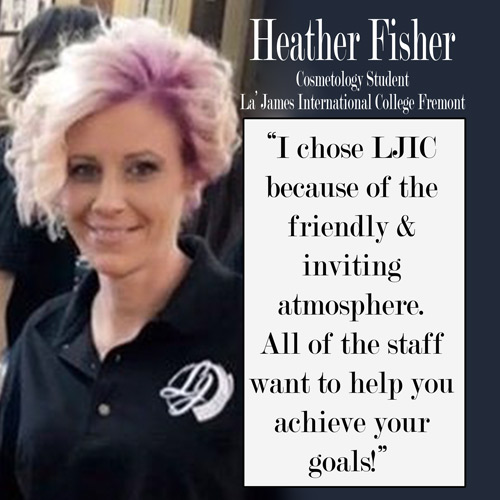 Contact a Career Planner to learn more about La' James International College & upcoming classes. Call 888.880.2108 or visit www.LJIC.edu today!