January 10, 2017
LJIC #TuesTimonial with Heather Marek! 
Meet Heather Marek, Esthetics student at La' James International College in Iowa City! See what Heather's excitements are for her future & the industry…
What were some of your excitements when you first started school?:
"I was ready for a change after selling real estate for 23 years so I was very excited about the new opportunity. Everyone has been wonderful, very helpful & easy to work with. It has been a great experience so far."
What would you tell someone interested in the industry?:
"I would tell them to seriously look into it. We have gone to a few spa tours and the owners have been very encouraging that the industry is growing. Its just an aspect in our society that I feel is not going to go away for a long time. People are very interested in taking care of themselves especially their skin so there are all sorts of opportunities for the future."
What has been your favorite part while attending LJIC?:
"The camaraderie & the companionship. It's been really easy to get to know everyone. Everyone's been very helpful & welcoming. They answer any questions I've ever had. The amount of information that I am learning is amazing. Every day there is something new. Any questions we have about anything, people want to share and explain their experiences, their situations & things that have happened to them in the industry. It's been great."
Thank you Heather for sharing your experiences & for participating in today's #LjicTuesTimonial!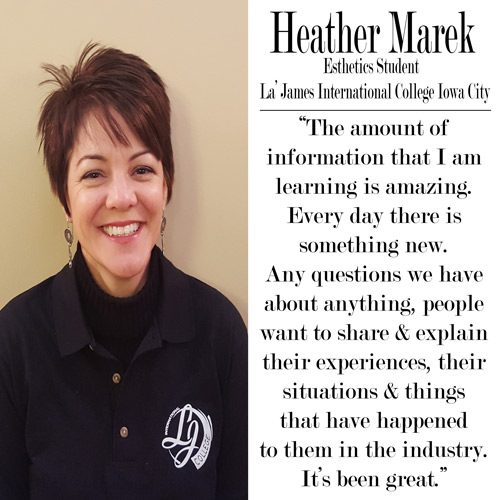 Contact a Career Planner to learn more about La' James International College and upcoming classes. Call 888.880.2108 or visit www.LJIC.edu today!