June 29, 2017
LJIC #TuesTimonial with Hilary D. from Fort Dodge!
Be sure to give this video a Thumbs Up & remember to Subscribe to our YouTube Channel: https://www.youtube.com/lajamesinternationalcollege
What was your first appointment & how did it go?:
"it was a clipper cut & it we very well, i was very confident!"
What has been your favorite part while attending LJIC?:
"There are always new challenges everyday. Fellow students & instructors are so supportive."
What were your fears & excitements when you started school?:
"Me fears were if I would fit in or if I would like it. My excitements were getting to live my dream and getting to experience it with my daughter."
Why LJIC?:
"I like the flexibility and the program."
What are your plans after graduation?:
"Eventually to own my own salon with my daughter."
What would you tell someone interested in the Industry & LJIC?:
"Everyone at LJIC is supportive & welcoming."
Thank you Hilary for sharing your experiences & for participating in this week's #LjicTuesTimonial!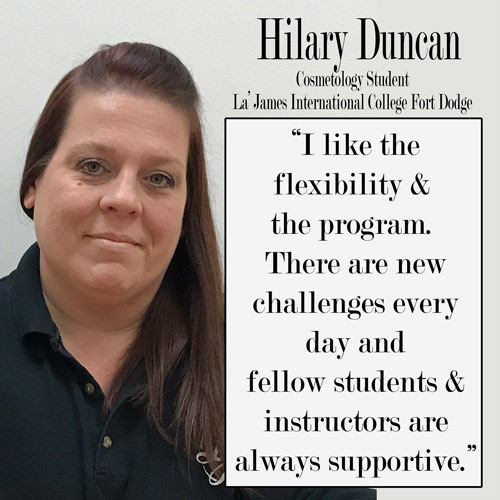 Contact a Career Planner to learn more about La' James International College & upcoming classes. Call 888.880.2108 or visit www.LJIC.edu today!