November 29, 2016
LJIC #TuesTimonial with Jasmine Bertram! 
Meet Jasmine Bertram, Cosmetology Student at La' James International College in Cedar Rapids. Jasmine shares with us what her first appointment was like…
"My first appointment was a haircut from my friend. I was nervous but as I continued through the cut I felt better about it because my instructor, Ms. Goodken, taught me very well. The haircut turned out great & she loved it."
What would you tell someone interested in the Industry & LJIC?:
"If someone is interested in coming to LJIC, I'd recommend they come tour one of our locations and sit in on a theory or a practical class & just observe on the salon tour."
Thank you Jasmine for sharing your experiences & for participating in today's #LjicTuesTimonial!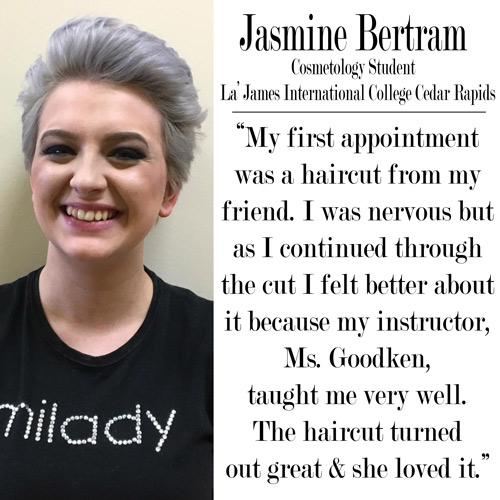 Contact a Career Planner to learn more about La' James International College and upcoming classes. Call 888.880.2108 or visit www.LJIC.edutoday!