January 24, 2017
LJIC #TuesTimonial with Jessica Bennett! 
Meet Jessica Bennett, Cosmetology student at La' James International College in Cedar Falls! See why Jessica chose LJIC to start her journey through the Health & Beauty Industry.
What was your first appointment and how did it go?:
"My first appointment was an Up-Do. It went great and the client really liked it."
What were your fears & excitements when you started school?:
"My fear was going back to school at 33 and I was excited about learning something I've always been interested in."
What would you tell someone interested in the industry and LJIC?:
"I would tell anyone interested in the industry that LJIC has a really great history! They are very flexible as far as the scheduling goes with offering the 3 Day Online program. It's a really great place to come to school every day!"
What has been your favorite part while attending LJIC?:
"That would have to be the hands on education I get every day. The instructors are great and are constantly giving us positive feedback."
Why LJIC?:
"Because they have a 3 day online program that allows more flexibility and allow more time with my kids but still be able to pursue my career."
What are your plans after graduation?:
"To access all of my options and one day be my own boss while doing what I love!"
Thank you Jessica for sharing your experiences & for participating in today's #LjicTuesTimonial!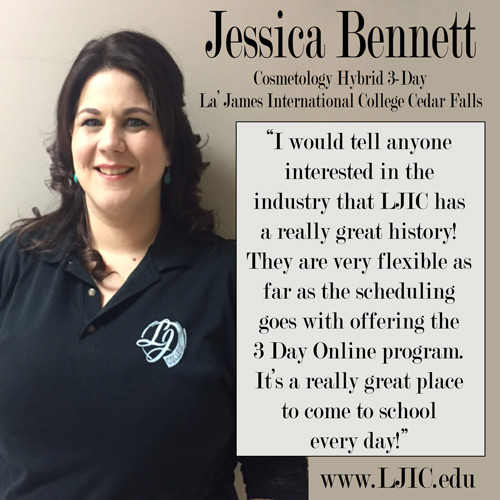 Contact a Career Planner to learn more about La' James International College and upcoming classes. Call 888.880.2108 or visit www.LJIC.edu today!