December 20, 2016
LJIC #TuesTimonial with Laura Allison! 
Meet Laura Allison from La' James International College in East Moline. Laura recently graduated from the Cosmetology program & is now taking the Teacher Training program. Today Laura shares why she chose LJIC to continue her journey…
"I chose LJIC for my teacher training because I got a great Cosmetology education and I knew I would get the best training to become an instructor here as well."
What were some of your fears & excitements?:
"I was afraid of disappointing the cosmo students and not being able to get my understandings across to them. However, I was excited to be able to actively teach and pass my knowledge onto others."
Who has made the biggest impact on you during your journey?:
"Ms. Julie Camp has always cheered me on, picks me up when I am being hard on myself, and is my biggest role model for being an instructor. Someday I hope to be as great as she is."
Thank you Laura for sharing your experiences & for participating in today's #LjicTuesTimonial!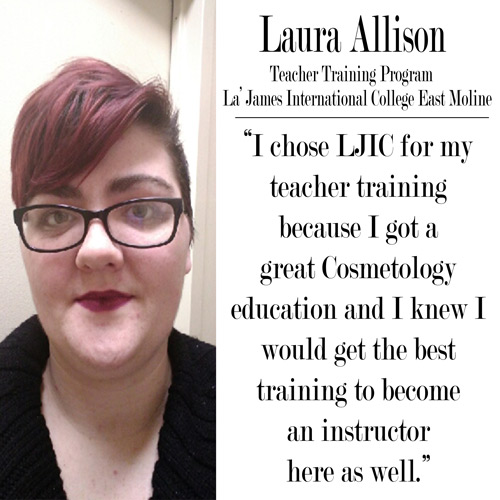 Contact a Career Planner to learn more about La' James International College and upcoming classes. Call 888.880.2108 or visit www.LJIC.edutoday!