September 13, 2016
LJIC #TuesTimonial with Lebe Ciara Kpodu!
Meet Lebe Ciara Kpodu, Cosmetology student at La' James International College, Illinois. Lebe shares with us why she chose LJIC…
"I chose LJIC because I wanted to learn everything! I want to learn Hair, Skin & Make-up. I want to eventually be my own boss & learning everything will help me."
We ask Lebe what her first appointment was and how it went.:
"It was a haircut and I was so scared. But I loved it!! I received an excellent tip and everything turned out very good."
What would you tell someone who is interested in the industry?:
"It is good to learn here at LJIC. I would tell them it is not easy but you can do it! The practical work is a lot of fun but you need to study hard for all the exams so you can get good grades and pass."
A Fun Fact about Lebe is that she is from Africa and English is not her first nor second language!! "She is a hard worker and all her clients just love her", says Miss Julie Camp, educator at La' James International College.
Thank you Lebe for sharing your experiences & for participating in today's #LjicTuesTimonial.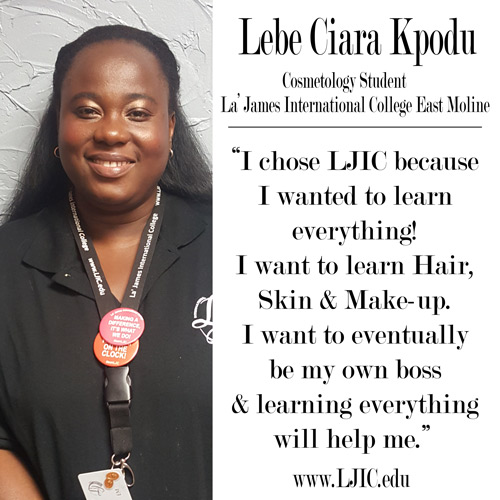 Contact a Career Planner to learn more about La' James International College & upcoming classes. Call 888.880.2108 or visit www.LJIC.edu today