December 13, 2016
LJIC #TuesTimonial with Maria Renteria! 
Meet Maria Renteria, Cosmetology student at La' James International College in Fremont! Maria loves the fact that the Beauty Industry has no limits…
"Don't wait to long to enroll, it is a fun profession and once you start you will love it. You will get out of life what you put into it. Do your best on everything you do, so you never regret anything. This is a profession you can take to any country in the world because there are no barriers in the beauty industry."
What were your fears & excitements when you started school?:
"I was excited to learn about the industry; haircutting, nail design, mixing colors everything sounded so amazing but at the same time coming back to college after a long time was my biggest fear."
Why did you choose LJIC?:
"I have always wanted to get into Cosmetology and at LJIC I found a good combination of learning centers, fun place, convenient locations & friendly people." 
Thank you Maria for sharing your experiences & for participating in today's #LjicTuesTimonial!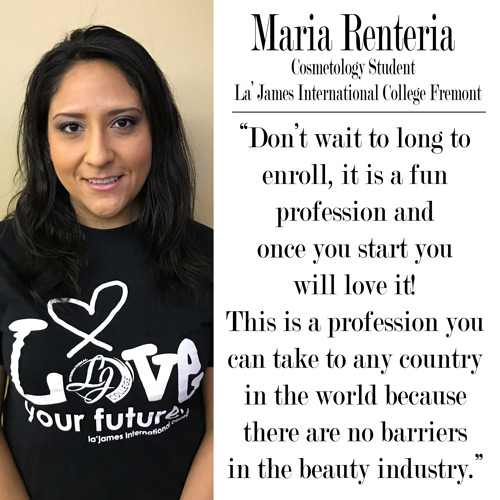 Contact a Career Planner to learn more about La' James International College and upcoming classes. Call 888.880.2108 or visit www.LJIC.edu today!