May 23, 2017
LJIC #TuesTimonial with Sharon T. from LJIC East Moline!
Sharon from La' James International College East Moline shares what she loves to do most while attending LJIC's Cosmetology program!
"My favorite part is the perming and hairstyling. I like the clients that come in and I feel the most successful in these areas."
Why LJIC?:
"I started in the High School program at Rock Island High so I was already familiar with the college."
What would you tell someone interested in the industry and LJIC?:
"I would tell someone that is interested that it is a good school because of its diversity and the students are fun loving and helpful. You get to meet new people and it will always be a new experience with each client."
What was your first appointment & how did it go?:
"My first appointment was a haircolor and it turned out well. The client loved her hair and was satisfied with the outcome."
What were your fears & excitements when you started school?:
"My fears were meeting my home schedule and school needs because I am a single mother, but I was excited about learning the skills and correct way to do things."
What are your plans after graduation?:
"My plans after graduation would be to find employment immediately at either a full service Salon or a high-rise working with elderly people."
Thank you Sharon for sharing your experiences & for participating in today's #LjicTuesTimonial!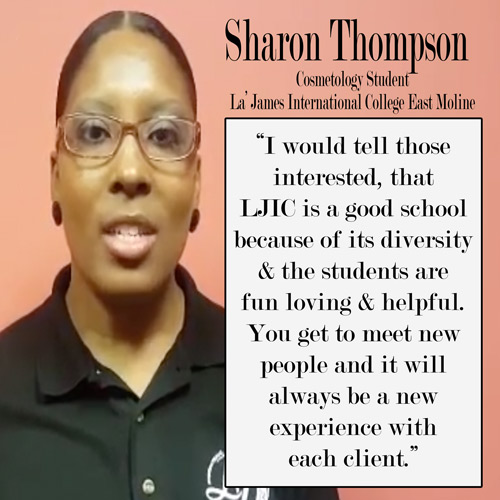 Contact a Career Planner to learn more about La' James International College & upcoming classes. Call 888.880.2108 or visit www.LJIC.edu today!