November 8, 2016
LJIC #TuesTimonial with Tonya McLemore! 
Meet Tonya McLemore, Cosmetology Student at La' James International College in East Moline. Tonya shares with us what her fears & excitements were when she first started school…
"When I decided to start, I was fearful of the possibility of failing on the test and being overwhelmed by the social aspect of the salon. However it was exciting to finally be starting in the career path I've always wanted to be in, yet never had the ability to take that first step previously, as well as the ability to get advanced nail training, thanks to LJIC offering Path to Perfection."
Tell us about your first day at LJIC.
"My first day of school was very exciting, I got to meet new people and I have grown to love them all. I first started learning Hair Sculpture, which I enjoyed as it's the basis of being a cosmetologist so I started learning one of the most important aspects of the career."
Why did you choose LJIC?
"I chose La' James International College for my training because I've always wanted to come here since I was young, it's a dream come true to be here finally!"
Thank you Tonya for sharing your experiences & for participating in today's #LjicTuesTimonial!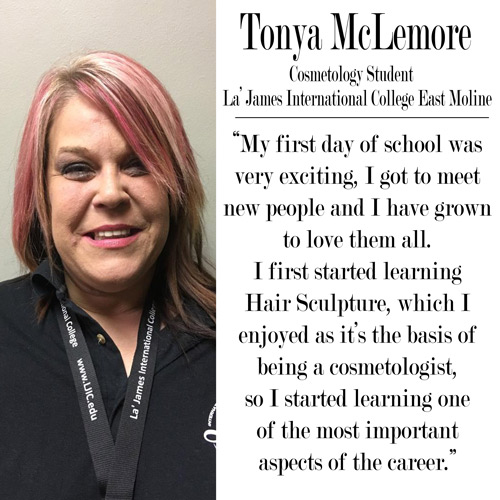 Contact a Career Planner to learn more about La' James International College and upcoming classes. Call 888.880.2108 or visit www.LJIC.edu today!