Our student, 
Blair Lensing
from our
Fort Dodge Cosmetology School
, shares steps to creating this cute
Pot of Gold 
Nail Design! Check it out & Try it out!….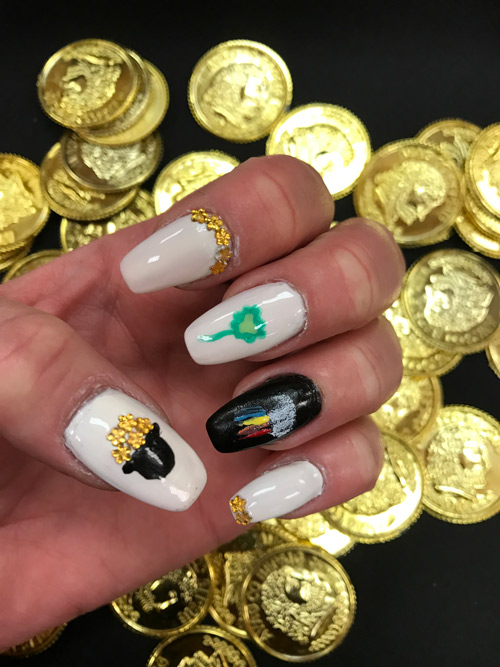 Step 1: Use CND Vinylux Cream Puff for the base color & CND Vinylux Black Pool for the accent nail.
Step 2: Use CND Vinylux Black Pool & gold gems to create the pot of gold on the thumb.
Step 3: Then put 5 gold gems at the base of the pointer finger & 2 gold gems across the top of the pinky finger.
Step 4: Paint a cloud and rainbow onto a sponge. Then press the sponge on the ring finger as if you were using a stamp.
Step 5: For the middle finger, use CND Vinylux Limeade and CND Vinylux Convertible to free hand a clover.
Step 6: Finish your look with CND Top Coat.
Thank you Blair for sharing the tips to creating this fun Pot of Gold look for today's #LjicTuesTorial!
Contact a Career Planner to learn more about La' James International College and upcoming classes. Call 888.880.2108.