April 28, 2017
Rhythm to your heart beat! 
When asked why did you pursue a Cosmetology Career from La' James International College Cedar Rapids, Kia Hoover's response was simple, "I LOVE to make people feel beautiful. It brings me joy to see the services I perform bring clients joy, happy tears and beauty."  Kia loves being in a career that is fun and where she can use her joy and talents to help others.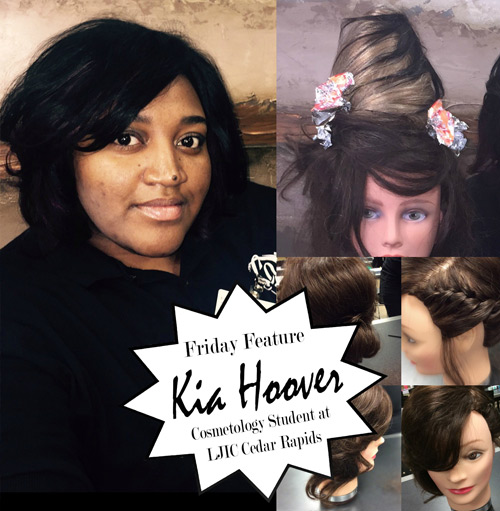 Kia was working at Nordstrom in Lindale Mall which is a few doors down from the LJIC Cedar Rapids campus. "It was a perfect fit and place for me because I can go straight to work after class."  Kia currently works the third shift at the retail store and loves the confidence that attending beauty school has given her at work.
Kia has had many opportunities in her time at LJIC like highest retail sales along with highest spa sales. She also attended LJIC Trend Vision 2016 last October, "It gave me my first look at what life can be like in this industry.  I want everyone in the beauty industry to know who I am.  I want to be an Industry Icon and have my work inspire others!"   

Not everything has been easy for Kia during this Journey, "Men's haircuts gave me the blues. But I found with repetition each men's cut I did made my blues go away.  It has not always been a walk in the candy store. However, I've made school work for me and have found a balance between work and school and that was an adjustment."
What is next for Kia after graduating next November?  "I plan to further my education by taking as many classes as I can and to travel to as many hair expos as I possibly can." Learning does not stop after Cosmetology school!  "I want to be a Trend Setter beyond what this industry has seen."  Kia's words of wisdom for others wanting to pursue this journey, "Love what you do.  If you don't have love for people and heart; then go find the rhythm to your heart beat!"
To learn more about La' James International College and the Cosmetology options, contact our Admissions Team! They are ready and happy to help or visit our website www.jic.edu today!