May 24, 2019
She's letting her skills shine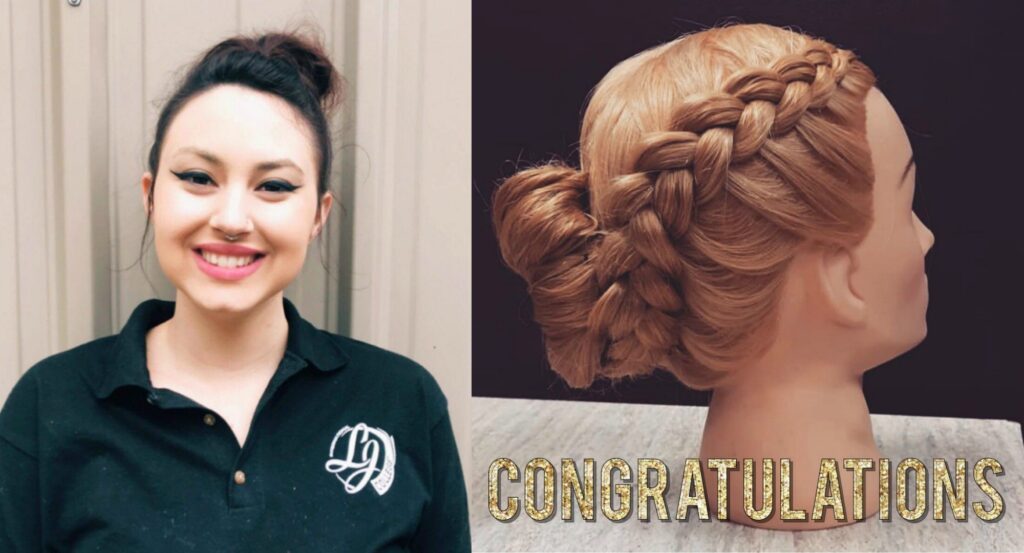 We are excited to announce this year's "Let's Your Skills Shine" winner, Attalina DiGiacomo from La' James International College Cedar Falls! In case you missed it, check out her winning contest submission.
Ever since third grade, becoming a Cosmetologist has been a dream of Attalina's. The thought of getting to cut, color & style hair has always excited her. She knew Cosmetology was the career choice for her.
Researching schools is a must when you start a new career adventure. It's important to ask questions, tour the schools and even talk with current students and educators… and that's just what Attalina did! "I visited the Cedar Falls campus and I fell in love with the school. I really enjoyed the positive energy the students and staff gave me. When asking my friends and family about the school, they all had only good things to say! The set up & system here at LJIC was a good fit for me."
Choosing La' James International College has been an exciting experience so far. "The teachers have always encouraged me and they've taught me so much. They continue to give me tips and tricks for the real world and I couldn't appreciate enough!"
While in school, Attalina has had the opportunity to do some amazing color transformations & beautiful up-styles for her clients. Check them out!
"This was a super fun color to do! Though it was a slight color correction, I enjoyed every second of it! My client wanted purple in her hair, but not just underneath where her previous colors had been. She wanted it to be more noticeable. We decided on a purple balayage with the bottom half being all purple. She wanted a change before school started back up and she ended up LOVING her hair! When she left the school she gave me a hug and thanked me a million times! It definitely made my week!"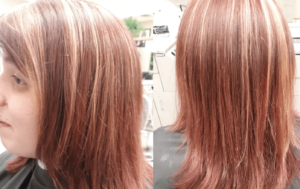 "Though I didn't get any before photos I can describe her hair by saying it was mostly brown and all one length. She told me she wanted a change and something lively. We came up with the idea of caramel bridge highlights and burgundy red all over! This one was fun to do because it was my first time doing a color and highlights at the same time! She mentioned she missed having short bangs so we decided to add those in with the long layers too! I loved the life that the colors and cut brought to her hair!"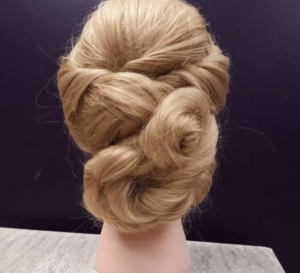 "When I practice on mannequins I act like they are clients in my chair. This 'client' doesn't like braids or buns as an up-style look. I decided to do twists for this style in a direction that looked as if they are going up. Doing that I think adds to the detail for the overall look, it gives the eye something to follow! I first added the bump and styled the rest of it around that. Just grabbing the hair and twisting then pinning. I believe in total it took 15-20 minutes including prep time!"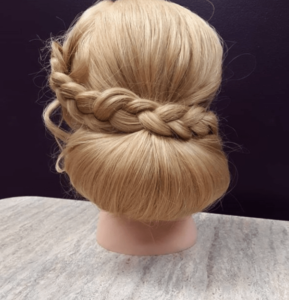 "With my up-styles I enjoy the slicked back and elegant ones. I also LOVE braids and try to incorporate them in with a lot of my updo's. I created this look for a 'client' who was either a bride to be or anyone who has an elegant affair to go to. For this style, I did a low bun (created with a low ponytail and teasing) with a loose dutch braid wrapped around! I did add some curls around her face to soften the front and make the style more balanced and fun!"
Attalina is set to graduate this year in July. Her plans are to work in a salon for a few years to perfect her skills and to learn more about the industry. However, in the future she does plan to open her own salon with her sister and the sky is the limit from there! "My plan hasn't changed in years and I hope it stays that way!"
When asked for advice to give future students, Attalina had some great words… "Two things… One, never ever doubt yourself. If you don't get it perfect the first time that's okay! That is why you're in school! If you doubt yourself you won't be able to complete the task. Always believe in yourself! And two, be open to accepting help. There are a million and one ways to do a technique/style/anything. More often than not, someone is willing to show you how they do something and to help you learn! Embrace the learning experience!"
We are so proud of you Attalina! You are attacking your goals and doing what you love! Your future is big, bright and we cannot wait to see what you do in the industry.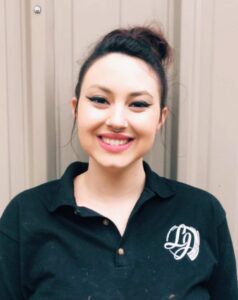 Follow Attalina and her work on instagram @HairByAttie