May 19, 2017
Skincare is personal
Explore Becky Huntley's journey from family life to a thriving Esthetics career, guided by LJIC graduate Andrea DeGroote and flourishing at Beyond Beauty with a passion for skincare and making a positive impact.
Before the Esthetics Journey
Before deciding to pursue an Esthetics career recent La James International College graduate, Becky Huntley, was living on an acreage with her three children, her husband and her horses.  Becky had her own at home daycare, worked in a preschool and most recently worked as a business associate at a local Cedar Falls business, Iowa Laser when she had her calling for Esthetics.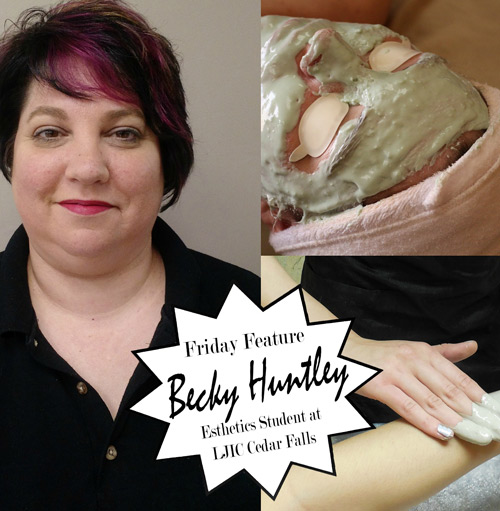 A LJIC Graduate's Influence
Becky was given the recommendation of La' James International College through, Andrea DeGroote who also is a LJIC graduate and guest instructor.  Andrea owns Beyond Beauty in Cedar Falls, Iowa. She has over 20 years' experience in the cosmetology field, and training from some of the leading experts in the field of paramedical makeup and tattooing.  Not only did Andrea recommend LJIC to Becky, she also offered her a coordinator position while attending school and an Esthetics position after her LJIC graduation.
The Speedy Journey Through Esthetics at LJIC
Becky's journey through Esthetics at LJIC went by quickly.  "I was able to complete their Esthetics program in just around 5 months," Becky says, "I was part of the Ambassador Team and we helped with special activities for students and also got involved in local community events. I love meeting new clients and learning a little more about their lives. It had been awhile since I had to study and take tests but fellow students and instructors were helpful and gave me tips to get through."

Becky's Career Kickoff: Beyond Beauty and Esthetics
Becky started at Beyond Beauty right after graduation. "I can't wait for the state to issue my license so I can start working on clients.  It is amazing to see each client's results after a series of microdermabrasion treatments.  Skincare is a personal thing for people.  I also loved learning facials and body wraps while in school. I love the relaxing spa environment and I look forward to offering those service to my clients."
Beyond Beauty: Becky's Fulfilling Esthetics Career
Becky is loving her career at Beyond Beauty.  Beyond Beauty offers microblading, permanent makeup, derma-rolling, chemical and laser free tattoo removal, dry needling and scar camouflage, and are certified in the recreation of 3D nipple and areola pigmentation after breast reconstructive surgeries.  Becky is excited to be adding spa packages to the menu at Beyond Beauty.  "It is a great industry to be involved in and to be able to make a difference in people's lives."

To learn more about our esthetician school in Iowa, contact our Admissions Team! They are ready and happy to help.