September 8, 2016
We thank you for your part in the journey… – Teacher Tip with Mrs. Clayton!
Today's Teacher Tip is a special one! It comes from Mrs. Dorothy Clayton, Instructor at La' James International College in Fremont. Mrs. Clayton has been educating for 46 years and is now planning new adventures for her next journey… Retirement!
"In August of 1970, my journey began as a cosmetology instructor. Little did I know that 46 years later I would still be on that journey! I remember my first theory class, anatomy. Was I nervous? YES! But, the excitement in the classroom with Buck, our skeleton, set me at ease.


Since than, I cannot tell you the satisfaction that teaching has brought me. I could not have chosen a better profession. I am a better person for having been touched by the lives of my students, many of whom I still keep in contact with and who are still in love with this industry.

Teaching with a passion for learning and constantly exploring further in a subject has made myself and hopefully my students better prepared to become successful cosmetologists.

If you have a desire to pass on your passion for this industry, I strongly suggest that you consider becoming an instructor. It is so rewarding to see the look on a student's face when they have that 'aha' moment!!"
We wanted to send Mrs. Clayton a little message… ? As you retire, remember that you have left behind a legacy of Encouragement, Excitement, Achievement & a Work Ethic that will stick with students & coworkers forever… We wish you a fulfilling retirement. May your next journey be filled with so much joy and relaxation! CONGRATULATIONS!!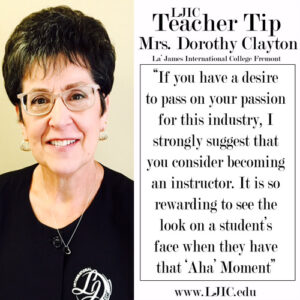 Thank you Mrs. Clayton for the great advice & for participating in today's #LjicTeacherTip
Contact a Career Planner to learn more about La' James International College & upcoming classes. Call 888.880.2108 or visit www.LJIC.edu today!

~ GET CONNECTED ~
Facebook: www.Facebook.com/LaJamesInternational
Twitter: LJIC1
Instagram: LJIC1