February 17, 2017
The Passion to Help!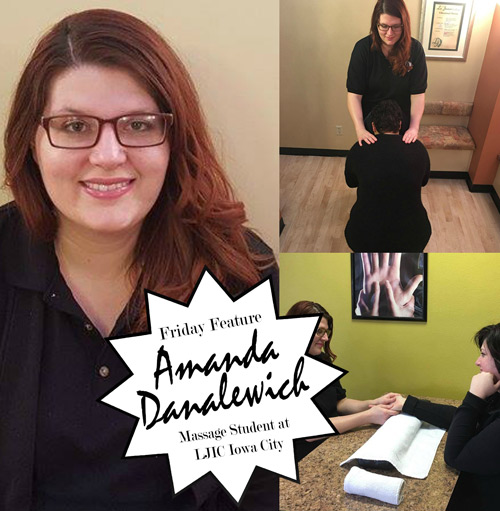 A desire for making people look and feel their best, Amanda Danalewich knew she wanted to pursue her passion in the health and beauty industry. "I was always interested in Massage Therapy and grew up knowing I wanted to go into some sort of career following that interest! Encouraging benefits of a healthy lifestyle to others always interested me and is really important!" Amanda was working at a local coffee shop in Iowa City, something she loved doing, but knew it was time to make a change in her life! "It was a great time in my life to pursue my dream! I was at a point where I could choose to do something because I want to do it and not that I have to do it!" In her search to find the perfect college to pursue her career, Amanda had heard awesome reviews from the La' James International College in Iowa City, and decided to take a tour! "I was SO impressed by the school during my tour! I thought it was beautiful and really fell in love with the school!" Amanda is currently enrolled in LJIC's Massage Therapy program in Iowa City and is LOVING her journey!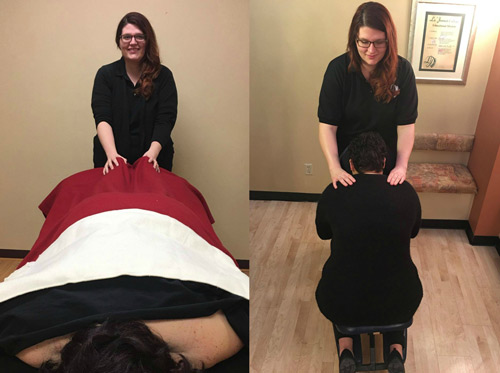 While attending LJIC, Amanda has had many memorable moments. "I LOVE doing the Chair Massage Events! They are so much fun! I think Rallies and Huddles are super exciting as well! We get to play fun games and really get to know our classmates better! This journey has been super busy, but full of information and excitement! I also really enjoyed getting my first massage as a student of the program! I couldn't wait to become hands on and take clients!" Though there have been many encouraging and memorable times for Amanda, coming back to school proved to be a little challenging at first. "Learning and studying again was definitely difficult! Finding the time to fit everything in was hard at first. I just keep telling myself that I have to keep going, keep studying and keep pursing MY passion!" Amanda has also found a new interest while in the Massage Therapy program at LJIC, Cosmetology!
Once Amanda finishes the Massage Therapy program this summer, she plans to enroll in the Cosmetology program at LJIC! "I've always been interested in hair and makeup! While attending, I've decided I would LOVE to come back and pursue that interest as well! Making people look and feel their best is really important to me! I want to make my clients feel better than before when they leave and I think it's really important to take that extra step for the customer!"Eventually, Amanda would LOVE to open her own full-service salon though she knows there is and will be a lot of hard work to be done before! "It has been hard work! I know I'll get there and I know it will be worth it! It's so important to give it your all when you're pursing YOUR dream! I am SO happy I did!"