October 6, 2017
Trend Vision 2017 at La' James International College
Show Off Your Skills as a Stylist at Trend Vision 2017
October 11th, 2017 is Trend Vision at La' James International College. This exciting event is where LJIC students compete to show off their most stunning creations across three distinct categories including hair, make-up, and nails. Students from all 8 campus locations in Nebraska, Iowa, and Illinois will gather at the Adventureland Palace Theater in Des Moines, IA to demonstrate the best of what the LJIC community can achieve. If you're interested in competing in Trend Vision 2017, learn more about this fabulous event and start your application today! –> RSVP to join us at Trend Vision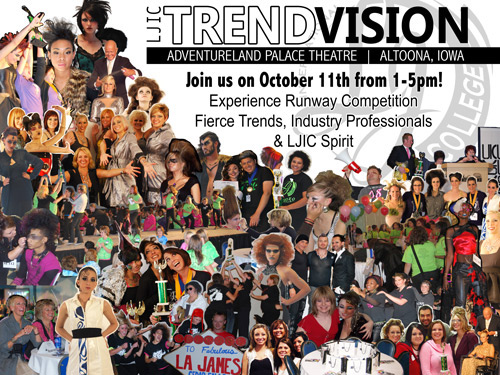 3 Strikingly Different Categories
This year's Trend Vision is going to be anything but average. We're always encouraging our students to push the limits of what's considered beautiful. The 2017 competition will feature three signature categories, including New Norm, Defying Gravity, and Metal Elements. Students are encouraged to interpret these categories as they please. New Norm speaks to society's changing beauty trends as we embrace new ideas of aesthetic excellence. Contestants are sure to have a lot of fun with Defying Gravity as they come up with all kinds of outrageous creations that seem to break laws of the universe. Break out your periodic table, because Metal Elements is going to be filled with a range of unique materials including gold, silver, and even copper. Our judges are looking forward to seeing all kinds of one-of-a-kind looks at this year's event.

Real-World Experience On and Off the Runway
Trend Vision is about more than shining a spotlight on the best LJIC artisans. It's about giving students the chance to compete in a professional, upbeat atmosphere. Just like your favorite beauty reality competition series, LJIC students will get the chance to show off their skills while performing under pressure. With dozens of booths setup across campus, everyone will be pinning, painting and curling with their eyes on the grand prize.
All students will work with the model of their choice. Once all participants have presented their work, the judges will make their final decision. The Overall Grand Champion will be awarded to the student with the best hair, makeup, and nails. Students are free to enter all three categories, but they must have a separate model for each category.

If you're a cosmetology student at LJIC, you can learn more about the competition and submit your entry on the LJIC competition page. Don't let this exciting opportunity pass you by. Start designing your fabulous look today!