May 2, 2017
Your "why" will keep you going – A Teacher Tip from Ms. Jacy Bunz 
Meet Ms. Jacy Bunz, Term 2 & Esthetics Instructor at La' James International College in Cedar Falls. Ms. Bunz has been a part of the LJIC family for 4 years and she wanted to share some advice for students in today's LJIC Teacher Tp…
"Success doesn't come easy & it doesn't happen over night, but it is worth the hard work. When you come to a point where you are struggling, look back at why you started in the first place. Your 'why' will keep you going."
What are your favorite LJIC moments?:
"I love Trend Vision & watching the students as they celebrate this industry & seeing the fire & passion it ignites in them to be more creative & fall in love with this industry more." 
Why LJIC?:
"LJIC is more than just a place to get an education. When you leave you have the tools & knowledge needed to get started in the industry & you have a second family."
Thanks Ms. Bunz for the great tip & for participating in today's #LjicTeacherTip!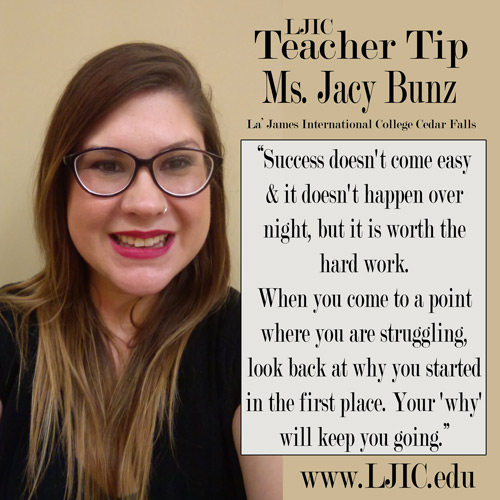 Contact a Career Planner to learn more about La' James International College & upcoming classes. Call 888.880.2108 or visit www.LJIC.edu today!