It may sound simple but to some… applying nail polish can be a tedious & frightening task! Karla Ciecalone, Nail Technology student at La' James International College in Des Moines shares some quick tips applying nail polish.
Step 1:  Make certain your nail plates are clean of oil & other debris. Karla is using CND Vinylux Dark Lava for today's Tutorial. This product does not require a thin base coat. To begin, simple shake the polish gently from side to side. After you remove the brush from the bottle, wipe the side of the brush away from you on the inside of the bottle to remove excess polish. You will have a bead of polish on the brush to cover the entire nail plate with one layer.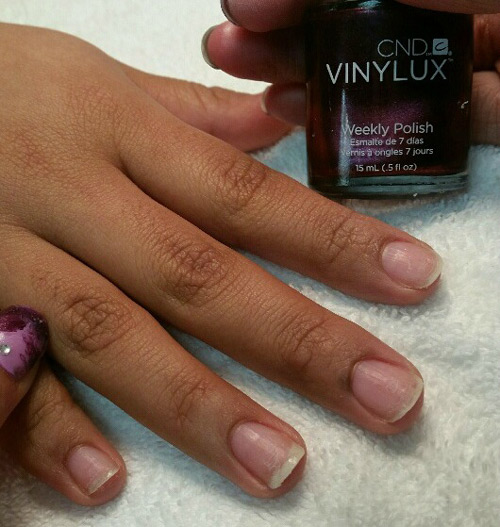 Step 2: Holding the brush at a 30-35 degree angle, place the tip of the brush on the nail 1/8" away from the cuticle & in the center of the nail.
Step 3: Lightly press the brush onto the nail plate creating a fan with the brush. Then push the brush towards the eponychium (cuticle) to produce a round edge of the polish. Pull the brush toward the free edge of the nail & down the center. Continue by moving to each side of the nail and pull in even strokes to the nail tip (free edge).
Step 4: After finishing the first coat of each nail, move the brush back and forth on the very end of the free edge, barely touching it to apply color. This reduces chipping.
Step 5: Move back to the first hand completed and apply the second coat of color. Applying a thin & even coating on the nail will give the color depth and perfect appearance.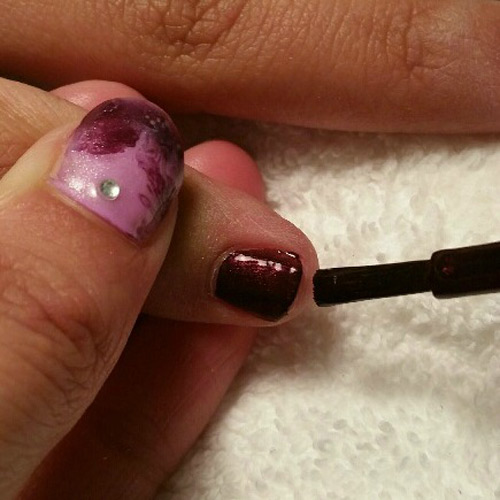 Step 6: Apply Top Coat to prevent chipping and to give your nails a glossy finish. Make sure to coat the free edge of the nail with top coat as well.
Step 7: Apply CND Solar Oil to the skin around the nails to moisturize.
Thank you Karla for the great tips & for participating in today's #LjicTuesTorial!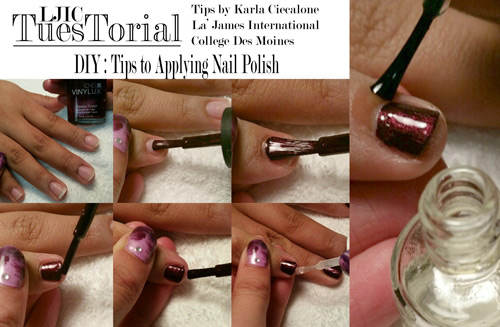 Contact a Career Planner to learn more about La' James International College & upcoming classes. Call 888.880.2108 or visit www.LJIC.edu today!